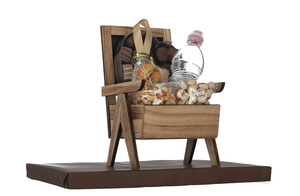 This adorable welcome package includes a basket that looks like a chair, with a chalkboard back so you can write a personal message to your guests! ( I would write : Thank you for joining in our simcha - sit back, relax, and enjoy!)
filled with a bottle of water, 2 bags of fresh-roasted nuts, a bag of fresh pastries, and a box of 12 dairy Belgian pralines.
Delivery in Jerusalem is $14
Outside Jerusalem is $26. See more prices on the checkout page.