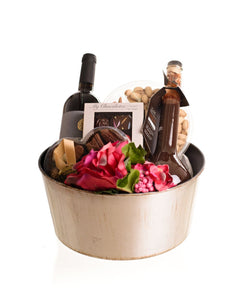 overflowing with mouthwatering treats, this package will delight anyone you are thinking about in Israel. contains a bottle of Sinai dry red wine from the Psagot winery, a beautiful glass bottle of chocolate liquor from L'chaim liquors, a heart-shaped pvc box filled with 18 dairy Belgian pralines, a window box filled with 8 My Chocolates, a rondelle with fresh-roasted nuts, and a real-looking flower, all contained in a tin-look planter. 
Delivery in Jerusalem is $14
Outside Jerusalem is $26. See more prices on the checkout page.