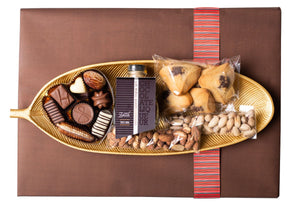 Filled with scrumptious goodies, this gift is sure to delight. A heart-shaped box of dairy Belgian pralines, a small glass bottle of L'chaim chocolate liquor, 2 long bags of fresh-roasted nuts, and a bag of 4 hamantashen sit on this elegant gold dish.
Delivery in Jerusalem is $14
Outside Jerusalem is $26. See more prices on the checkout page.